Business Challenge Key Features Business Benefits
SupplierSoft on-Demand Procure-To-Pay solution enables enterprises to collaborate with their suppliers on all aspects of Procure-To-Pay process across various functional departments. Ease-of-use, global performance and multi-lingual capabilities ensures rapid supplier adoption across all geographies.
The key features of this solution include:
Supplier self-service: Suppliers collaborate with you through an on-demand portal on the tactical aspects of procure-to-pay process, freeing up supply chain professionals to manage strategic aspects of relationship.
Lead Time Management: Suppliers maintain their own lead times, enabling accurate placement of orders without excess inventory or shortages.
Purchase Order management: Once purchase orders are issued in backend ERP systems, the system manages supplier acknowledgement, acceptance and change management of the purchase orders. Integration with ERP system ensures that this information stays updated in backend systems. Expiration driven reminders ensure that purchase order is managed in a timely fashion.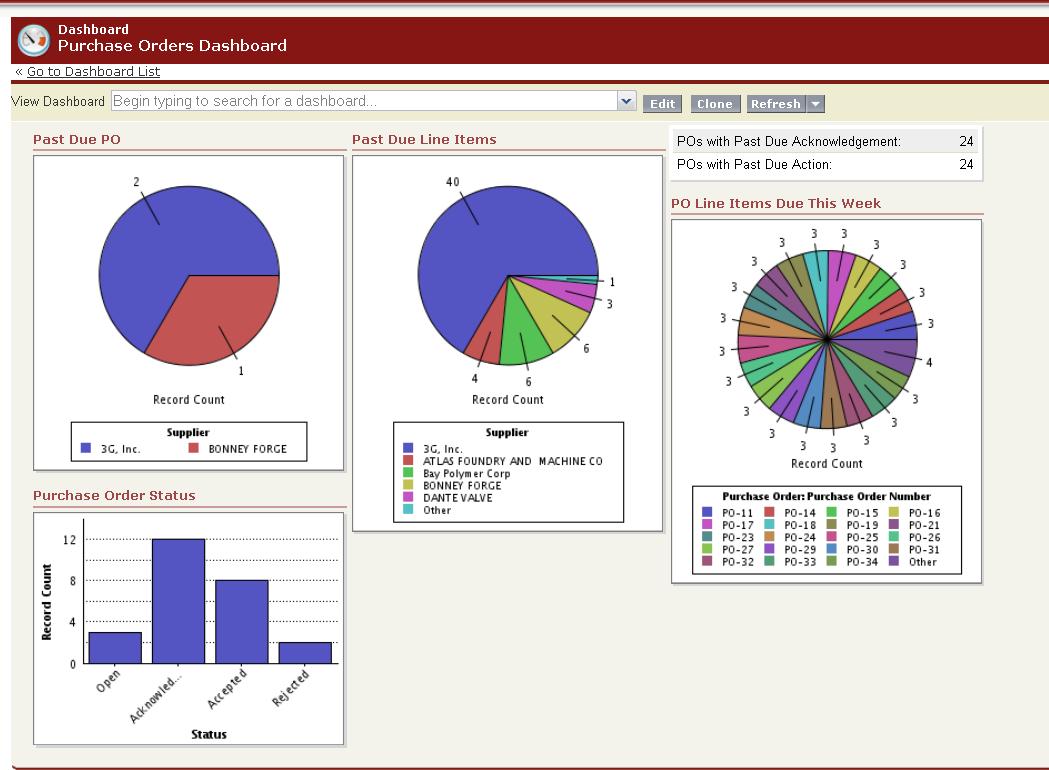 Quote management: Communicate your requirements with your suppliers electronically and get accurate quotes.
Invoice: Suppliers can convert one or more purchase orders into an accurate electronic invoice, eliminating the need for manually keying in paper invoices. Integration with back-end systems ensures that invoices can be reconciled with purchase orders and receipts for two-way and three way matching.
Payment Visibility: Integration with back-end systems provides suppliers accurate and full visibility into the status of their invoices and payments.
Integrated Corrective Action Management: This add-on module is fully integrated and enables companies to open issues against purchase orders. It drives corrective and preventive actions to timely closure, resulting in reduced supplier risk.
Integrated document management and search: Documents and notes can be attached to suppliers, purchase orders, invoices and payments.. Documents common across all suppliers such as quality and EHS policies can be shared with the suppliers. Integrated searched enables quick access to information.
Outlook/Notes integration and e-mail: E-mails, including mass communications can be sent through the system, keeping an audit trail of all communication with suppliers. Contacts, calendar and tasks can be synchronized with Outlook/Notes, and all inbound and outbound e-mails can be attached to the supplier through click of a button. This ensures that all critical communication about a supplier is available in one central place. Entire communication history can be searched through, providing visibility into past interactions
Expiration driven reminders: Expiration driven e-mail reminders ensure that procure-to-pay transactions are driven to completion in a timely fashion. Multiple reminders can be configured around a due date.
Configurable Dashboards and reports: Configurable dashboards and reports put all Procure-To-Pay information at fingertips of business users – all without IT involvement.
Ease of Use: A Web 2.0 user interface eases supplier adoption.
Global Performance: The system has superb performance across all geographies for global suppliers.
Multi-Lingual: The system is enabled for translation in any language and can be easily translated into any language, improving supplier adoption.