Business Challenge Key Features Business Benefits
While enterprises use ERP systems to manage basic transactions in the procure-to-pay process, the process of creating, negotiating, approving and renewing and storing contracts is typically based on paper, word documents and e-mails. As a result companies face following key challenges: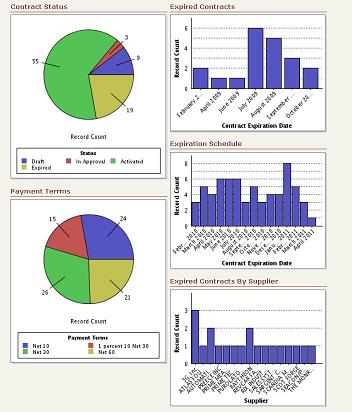 Difficultly tracking existing contracts: With paper or hard drive based repository, it hard to track all signed and in-process contract and gain visibility into their status.
Long cycle times for creating new contracts: With no standard contract templates available centrally, it is difficult to create the right contract. Approval cycles get long, since non-standard contracts require lengthy legal and finance review.
Paper signatures: Paper based signatures make the task of contract signing manual and onerous. Further, scanned contract documents are unsearchable.
Managing contract renewals: With no visibility and reminders into contract expiration, the risk of contract expiration or automated renewals increases.
Lack of audit trail: A lack of clear audit trail puts companies at risk of SOX non-compliance.
As a result, companies face higher contract management costs, longer contract creation cycle, increased regulatory and legal risks, while realizing lower than expected contract savings.